Amazing Cu Chi Tunnels
The tunnels of Củ Chi are an immense network of connecting underground tunnels located in the Củ Chi District of Ho Chi Minh City, Vietnam, and are part of a much larger network of tunnels that underlie much of the country. If the tenacious spirit of the Vietnamese can be symbolised by a place, few sites are more symbolic than Cu Chi. At first glance there is scant evidence today of the fighting and bombing that convulsed Cu Chi during the war. To see what went on, you have to dig deeper – underground
Amazing Cu Chi Tunnels 1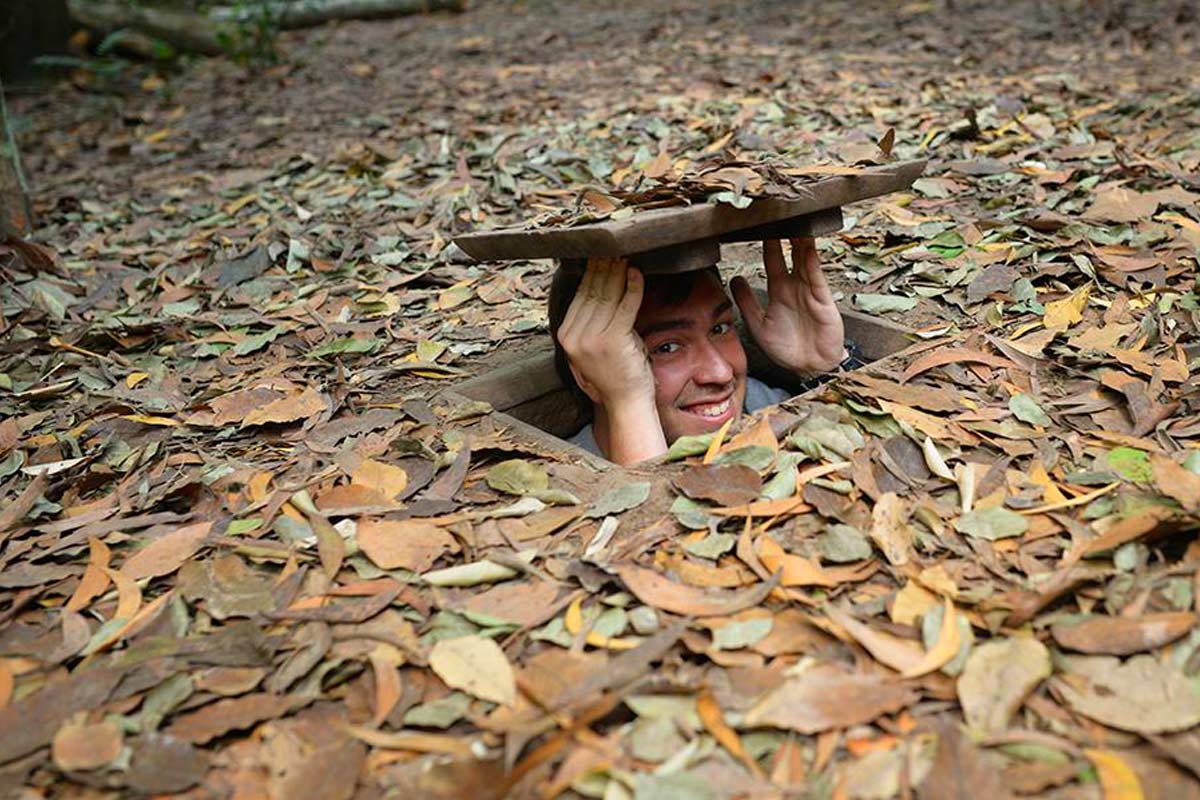 This 06 Hour Private Shore Excursion Includes:
Pick up from the port of Ho Chi Minh City (former Saigon)

Private Licensed English Speaking Guide

Round Trip Transportation in Private Vehicle (with A/C)

Drinking Water and Cold Towel

Lunch at local restaurant (drinks not included)

Included Interior Visits- Cu Chi Tunnels
Ho Chi Minh City Vietnam Shore Excursion - This focus of this shore trip is the Cu Chi tunnels, located in the Vietnam War memorial park. In addition to visiting this site, which has become a popular tourist attraction, you enjoy an included lunch.

After meeting your guide you will depart for the Cu Chi District of Ho Chi Minh City where you have the chance to see and learn about the famous Cu Chi Tunnels which are now part of a Vietnam War memorial park and a popular tourist attraction. The Communist guerrilla troops known as Viet Cong dug tens of thousands of miles of tunnels including these below Cu Chi. The tunnels were used as infrastructure including tactical quarters, storage rooms, kitchens, a school and even an underground hospital. Most entrances were so well disguised that only a small portion of the system was ever discovered during the American war, despite the fact that some 125 miles ran under a U.S. military base. To combat these tactics the U.S. and South Vietnamese forces trained soldiers (known as tunnel rats) to navigate the tunnels in order to detect booby traps and enemy troop presence.

You will be guided by a veteran known as Uncle Nam who lived in the tunnels for 12 years during the American War (as its known in Vietnam). Uncle Nam only speaks Vietnamese so he will speak to you via your guide at the tunnels. You will gain deep insight and personal accounts of the wartime era.

After visiting the Cu Chi tunnels you will drive to central Ho Chi Minh City to enjoy a typical Vietnamese lunch at Dong Pho Restaurant, which is the name of ancient Sai Gon. The restaurant follows ancient structure and is well decorated with plants and flowers.

You return back to the pier at the end of the tour.

Vietnam Entry Information - With these private tours, our partners in Vietnam will need the following information for each person in your private party at the time of your reservation.
-Passport Number
-Passport Expiration Date
-Date of Birth
-Nationality
-Gender
-Full name as listed in the passport

Shore Trip Timing is approximate based on your interests & traffic
Meet Guide and transfer to Cu Chi – 2 Hours

Visit Cu Chi Tunnels - 1 Hour

Drive to Ho Chi Minh - 1.5 Hours

Lunch – 1 Hour

Return to port – 30 Minutes
If you cannot find what you are looking for, our Ho Chi Minh tours and Ho Chi Minh Shore Excursions can also be customized to fit your needs. If you have a larger group, we can offer you a private Ho Chi Minh tour using a mid-size bus or full size coach. Please call/whatsapp us at +84-912555208 or email us at info@ethnicvoyage.com with any questions or to receive a customized quote.

The tunnel network of Cu Chi became legendary during the 1960s for facilitating VC control of a large rural area only 30km to 40km from HCMC. At its peak, the tunnel system stretched from the South Vietnamese capital to the Cambodian border; in the district of Cu Chi alone more than 250km of tunnels honeycomb the ground. The network, parts of which were several storeys deep, included countless trapdoors, constructed living areas, storage facilities, weapon factories, field hospitals, command centres and kitchens. Cu Chi has become a place of pilgrimage for Vietnamese school children and foreign tourists.
Private Holidays off beaten paths in Vietnam