03 Days - MASTER COOKING FUSION IN HANOI
Discover Fusion cooking, between East and West, with the french Chef Didier Corlou " To evolve in a space where the West meets Asia, where the two come together for a cuisine in a perfect balance of tastes and textures." Come to savour the taste of Fusion cooking with us
03 DAYS - MASTER COOKING FUSION IN HANOI 1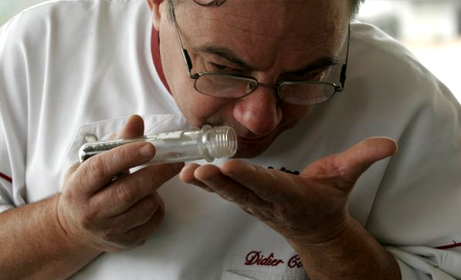 Detailed itinerary
Famous master Chef of France
Member of Culinary Academy France
5 Stars Diamond Award Chef
Escoffier Vietnam President
About Didier Corlou
Born at Hennebont, in the Morbihan region, Brittany, Didier Corlou is no armchair traveller. He finished his training when he was seventeen, put in three years in some French inns and restaurants then headed off to explore the world, and in the process became enchanted with the exotic spices and fruits of Africa, Asia and distant islands.
His travels saw him cooking for presidents in Africa, show biz stars in Bora Bora, royalty in Malaysia, the king of Cambodia, and he has now worked across the globe, including though Africa, Polynesia, Indian ocean, the Caribbeans and Southeast Asia.
His pleasure resides in mixing French ingredients with Vietnamese taste for creating new tastes. Examples: grilled duck foie gras with lemongrass, spring roll with truffles, « banh cuon » with caviar and salmon roes, braised « calang » in papillote with turmeric, crab cannelloni with sea urchin nectar, rock lobster in fish bladder, pork nougat with caramel, caramelised cream with young rice…
These creative dishes draw their inspiration from the tradition of French and Vietnamese cuisines, by combining with new ingredients: wild peppers and peppers from Phu Quoc, bees' pollen, ambrette seeds, « nuoc mam » salt flower, essential oils of Hanoi 's herbs. This new concept of Vietnamese cuisine has followed Didier Corlou's steps to different culinary promotions held abroad (Singapore, France, United States, Thailand, Mexico and Australia).
Itinerary schedules (3 days from Monday to Saturday):
• Morning: 9.30 am to 12.30 pm
• Lunch: 13:00 pm to 1.30 pm
• Afternoon: 1.30 pm to 4.30 pm
Note: All the cooking class will be organized at Carambola house - Didier Corlou residence or Madame Hiên Restaurant at Chan Cam.
Market visit

Realization of 15 recipes: 5 Starters + 5 Main courses + 5 Desserts

Demonstration of spices

Three lunches
Soft drinks and alcoholic beverages

Private transportation from your residence to venue

Daily and personal expenses

Other meals are not included in the itinerary
Signature Bespoke Style Suits Everyone
Flexibility: The sample itinerary below can be modified to suit your interests, budget as well as your personal wishes including departure date, duration, accommodation used & how long you spend in each destination.

Tailor Made Journey: This trip can be tailor made to create a unique holiday for your individual requirements by travel experts with intimate knowledge of the destination. It is a more individual trip that will suit those who enjoy immersing themselves in new cultures and environments, with the flexibility to plan a trip at your own pace. Quality and value are the hallmark of the trips, with most services being provided on a private basis.
Private Holidays off beaten paths in Vietnam